Last Halloween, the kids were sort of obsessed with The Lord of the Rings. Not Harry Potter obsessed like they were over the last six months, but still pretty coo coo. Anyway, it wasn't a huge surprise when Newt said he wanted to go as Frodo. But I have to say I was really psyched when Elfie, my 8-year-old, said she wanted to go as Legolas. Because Legolas kicks ass.
Elfie, not surprisingly, loves elves. She sort of looks like a little elf, which is why I gave her that pseudonym. At first, she wanted to go as Arwen, but the only Arwen costumes out there for children are the froofy, white, "I'm so etherial and lovely, thank the gods I'm getting married to Aragorn" dresses.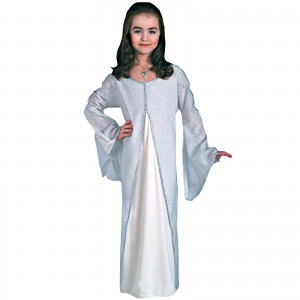 Apparently no one carries the "I'm going to save Frodo from the Black Riders and then summon the river to drown them all" version.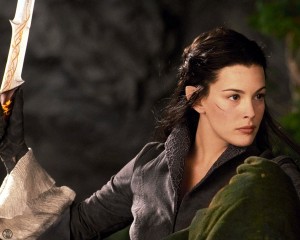 So Elfie went for the only good option — Legolas. It actually worked out perfectly because she has long, blond, one-length hair. I'm a bit of a hair-styling spaz, and even I was able to pull this off, so I'm guessing almost anyone could do it. By the way, you might want to buy some of those clear, teeny-tiny, rubber hair bands to tie off the small braids. 
Trace around the kid's head with a comb like you've put a bowl on top of her head.
Pin up that section of hair so all that's left is a small piece of hair right over the ear at the temple — just enough to make a small braid.
Do a sideways French braid — start braiding it and then keep pulling in teeny bits of hair as you move back along the ear.
Once you get past the ear, stop pulling in sections, and braid it all the way down to the ends.
Make the little braids on both sides.
With the big section of hair, make a fishtail braid down the back. I don't know how the rest of you do a fishtail, but I go for the dumbed down version…
Split the hair into two sections, like pig tails.
Grab a thin section from the outside edge, bring it toward the center, and join it with the pig tail from the other side.
Then grab a thin section from the outside edge of the opposite side, bring it to the center, and join it with the pig tail from the other side.

And then do that for what seems like forever…

The Legolas costume itself is pretty basic. Legolas was a no-frills guy. All I bought was a silver/gray turtleneck and a bow and arrow set (both at Target). Elfie already had black pants, boots, and a cape. We put a brown belt around her waist and another across her chest. And a friend who's craftier than I am made some brown leather-ish bands to lace up around her forearms.
Of course, about a zillion people asked her if she was Katniss from The Hunger Games (pfft, like Katniss looks anything like this), but she didn't care. It was a great costume, and she loved shooting arrows at everyone. This year? She's going as Little Bo Peep and is making the dog dress up like a lamb.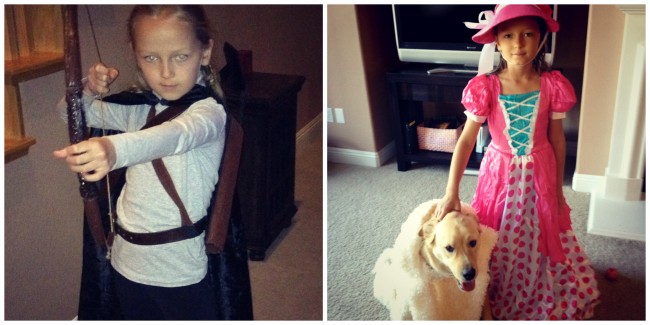 Don't ask me. I can't figure her out either.