It's a good day when you can be proud of your city.
I live in Reno, and I know this may come as a surprise to many of you, but it's actually a great place (shh, don't tell anyone — I like the population and traffic level exactly where it is). No doubt we've had an absolutely crappy time the last few years with the unemployment boom and housing bust (I like to think if it weren't such a far drive, a few East Coast banks and financial institutions may have gotten a visit from hoards of torch-and-pitchfork-wielding Nevadans). And granted, our elected officials still don't seem to understand that if you're a business that employs well-paid, smart people, you won't set up shop where the schools suck. But still, there's nowhere else I'd rather be.
The thing is, Reno is one of those towns that perpetually almost gets there. We're like the great song that gets sung by Donny Osmond. Or the cute skirt that the lady decides to dress up with panty hose. The potential is there. But somehow, something lame or pathetic always comes walking in.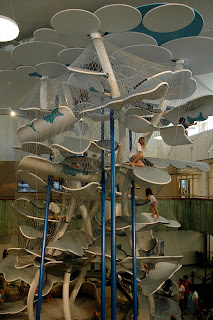 Cloud Climber
But today, that didn't happen. Today we went to the "members only sneak peak" of the Terry Lee Wells Nevada Discovery Museum. Or as the cool people call it, "The Discovery." To say our city needed a children's museum — actually, anything great for kids to do — would be an understatement. For whatever reason, we're a city filled with families that doesn't give a rats about families. Whenever I visit friends in other places, I think, "Why don't we have a play area in the mall? Why don't we have any cool public pools? Why don't we have an exploratorium?" It's frankly kind of embarrassing.
So when we walked into The Discovery today, I have to say, I got kind of verklempt. I was so proud of my city. The museum blows doors on every other children's museum we've been to in the last five years. Not to mention, it teaches the kids (and the adults, since I didn't know most of the stuff I read) all about our area. So much hard work obviously went into this project.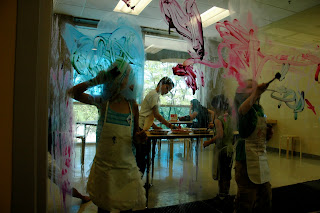 Painting on Glass
For two hours, my kids climbed on a giant cloud structure, put circuits together, painted on a glass wall, played with wind and magnets, and learned about our area's rivers and lakes by dipping their hands in a big, meandering waterway. It's a good thing we bought a membership because they begged to come back tomorrow.*
So today was a very good day. Hopefully the first of many to come. Let's keep our fingers crossed that things are looking up — for my city and all the rest of us, too.
*We can't go back tomorrow. The Discovery officially opens September 10th.