I've been wanting to write up the instructions for this scavenger hunt birthday party for years, and I'm finally getting off my butt because a friend needs something pronto. You guys are going to love this (sings: love this!). Don't be intimidated by the instructions — I swear it's not that scary!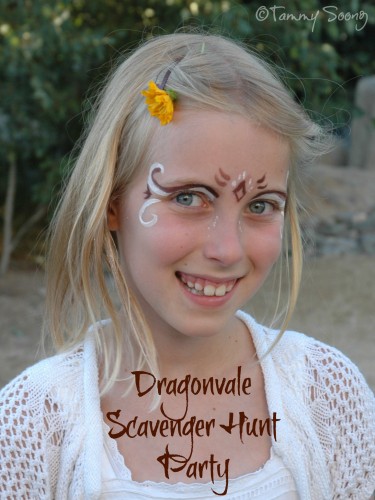 You may be familiar with Dragonvale, the little videogame where you mate dragons, hatch their eggs, and create places for them to live. This is loosely based on that — don't feel like you have to be a fan. Incidentally, this party is very hands-on as far as the parents go. We've found that it's a really fun way to involve the adults. And the kids love it.
Dragon "Costumes"
There are a ton of different Dragonvale dragons, so the idea here is just to give them as much of their dragon's colors as possible.
Supplies:
Nail polish — blue, green, red, orange, yellow, white, silver, black, pink, and purple will cut it. Might want to throw in a glitter over coat if you're feeling really crazy. And do yourself a favor and get this quick-drying nail spray so you don't have to tell a bunch of little kids to sit still until their nails dry….
Hair color spray — blue, green, red, orange, yellow, white, silver (glitter), black, pink, and purple. Sometimes it's hard to find ALL of these last minute, and frankly, it seems like every time I think I know which colors kids are going to want, I'm wrong. So don't stress. It's not like they need to have EVERY color in their hair.
Face paint — personally, I'm a fan of Snazaroo. It's never let me down and is usually easy to find.
So this is where you enlist your pals.
This Dragonvale Wiki site shows what each type of dragon looks like
. Ask each kid what they want to be, and paint their nails, hair, and faces accordingly. For instance:
Fire — orange, red
Lightning — yellow, blue
Plant — multiple greens, white
Crystal — purple, white
You get the idea. Needless to say, you can kind of go nuts in this department. The simplest way to do faces? Just a few swooshes off the eyebrows and the cheeks, and then make some dots and tear drops. If you sort of "shadow" your colors — draw one color right next to the other — it will make it look cooler.
The Scavenger Hunt
Supplies:
Paper, envelopes, markers
Gems — we used the plastic ones you get in bulk at Michael's.
White posterboard — 22 x 28 or so will work. You'll be making a large puzzle that a bunch of kids can work on, so think of what can fit on your table. Make it thick enough that it'll hold up to being put back together, but not so thick that you can't cut it. Foam core works.
Dance Music — that you can play in the location of this clue, so you may need portable speakers or a boom box.
Water balloons (can substitute foam balls)
Buckets
Black garbage bags
Evil masks and weapons — for 3-5 bad guys.
The Teams
Divide the kids into 3 groups. I usually make the birthday kid the leader of one group and then try to find two other children who are at least slightly familiar with the house/neighborhood. Assign names:
The Witches (orange)
The Warlocks (purple)
The Goblins (green)
The Story
"Evil Monsters have taken over Dragon Island! Now all the dragons who live here are in danger. The only person who knows how to rid the island of monsters is the Great Oracle. But here's the problem: the Great Oracle only answers questions for a price. . .
Now you all must go on a quest to collect gems — the Oracle loves gems. It's the only way he'll tell you the secret weapon to use against the monsters.
But if you fail, the price will be certain death."
The Quest
Your starting point should be somewhere that has a big area where a final "battle" can ensue. If you end up wanting to use water balloons, then obviously this needs to be outside.
Read the story out loud. You'll need 3-5 parents to dress as Evil Monsters. When you say, "Evil Monsters have taken over Dragon Island!" they need to come storming out and take over the section of the yard (or whatever) where you've decided to have your battle.
The dads at our party had a blast becoming the Evil Monsters (they also used it as an excuse to drink beer in the garage while figuring out their costumes). They cut holes in Hefty bags, found any kind of masks they could (including a box from a 12-pack of Sierra Nevada) and then outfitted themselves with everything from pool noodles to tennis rackets.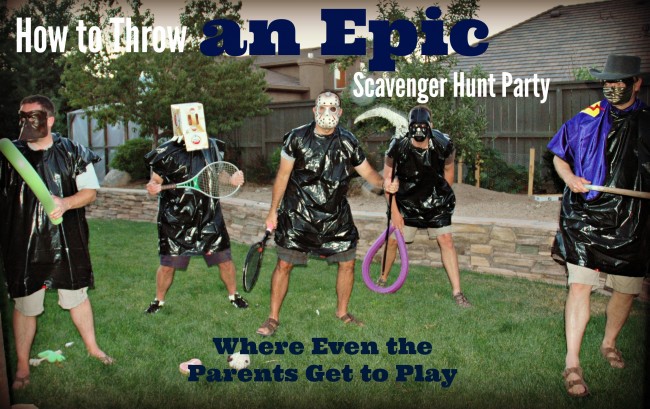 You should also have an Oracle picked out and point to him/her during that part of the story (he/she could dress up if you want to get really crazy). This is a perfect role for a grandparent.
Then give each team the envelope with their first clue. This is where we need to do a little rewind for the prep work….
The Prep
You need to figure out four locations where the kids can go and perform tasks. You want them to be far enough away from each other so that the groups won't see each other. We chose:
The neighbor's driveway
Our dining room
An outdoor table on the side of the house
Now for the clues. Each group will start at "Dragon Island," where the monsters have taken over, and then go to three other stations. At each station, they'll have to perform a task. Here's a rundown of what a team goes through after being handed the first envelope…
Clue A: Nathan and Jasmine have a house.
It's just across the street.
If you go there you will find
a girl you need to meet.
The kids go to the neighbor's driveway and find a girl (in my case, my 17-year-old niece) and a boom box. She says…
Task A: "I am a magic dancer.
Follow what I do.
When you all can do my dance,
You'll get a gem and clue."
So she teaches the kids a short dance (I think we used Firework). This is a great role for your more enthusiastic — and coordinated — friends. It's good to give them some lead time on this to make something up. Once all the kids have it down, she gives them their next envelope. Inside is a clue and a gem.
Clue B: There is a room in Elfie's house
Where people like to eat
There is some pretty crystal
And a table that is neat.
So they go to the dining room and find a bunch of puzzle pieces. Two adults are there and they read this:
Task B: "Solve the puzzle, use your brains.
Work together too.
Only when the picture's done
will you get your gem and clue."
After they finish the puzzle, they get the next envelope with the clue and gem.
Clue C: On the side of Newt and Elfie's house
there is a little table.
It's right next to the Buddha.
Go there now if you are able.
They arrive to find someone who says…
Task C: "Written on this paper is something you need to act out. Do NOT tell me what it is. I have to guess. Do NOT talk. Use motions only. NO SOUND. When I guess the right answer, you'll get your gem and clue."
This is a great part to play for grandparents. The kids draw a piece of paper out of a bag (or whatever) and have to act out one of the following as a group…
A girl feeding chickens. Remember — NO SOUNDS!!
A store that serves ice cream (an ice cream parlor)
Kids on a merry-go-round
A band playing music
Elephants and monkeys
People at a swimming pool
People watching a tennis match
People getting their hair cut
After the answer is guessed, they'll get their last envelope and gem…
Clue D: You've collected all 3 gems,
the treasure that you seek.
Take them to the Oracle
and pay him so he'll speak.
Everyone rushes back to the Oracle. When all three teams arrive with their gems, the Oracle calls forth the birthday kid and reveals the secret way to defeat the Evil Monsters — water balloons. Cue armageddon.
The Set-Up
The key to one of these amazing race, scavenger hunt deals is to send each team to a different station and then circle them around so they don't really meet up with each other. Stick with me here. If you follow along, I swear it's not as painful as it looks.
1) Print out 3 copies of the clues and cut them apart. Then lay them out like this:
Team Witches: A-B-C-D
Team Warlocks: B-C-A-D
Team Goblins: C-A-B-D
This is the path each team will take. The clues coincide to location, so Witches will go to location A first, Warlocks to B, and Goblins to C. They'll all end up at location D (both the beginning and the end).
2) Get 12 envelopes, 4 for each team. Label them with the team name on the front and 1, 2, 3, or 4 on the back. Use colors. Witches — orange, Warlocks — purple, Goblins — green.
3) In the order that you lined up the clues, put them in the envelopes. For example, for the Witches, put A in 1, B in 2, C in 3, and D in 4.
4) On the day of the party, the envelopes should end in these locations: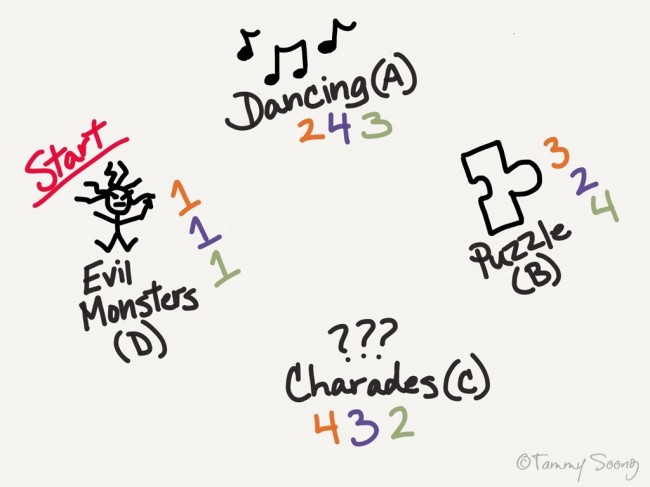 5) Divide your supplies into four bags that will be all ready for party day. Then you can just hand them off to your "actors," and they can take their places.
For location D, the start: Story, Orange #1, Purple #1, Green #1
For location A: Task A, music, Orange #2, Purple #4, Green #3
For location B: Task B, puzzle, Orange #3, Purple #2, Green #4
For location C: Task C, charade topics, Orange #4, Purple #3, Green #2
Final Tip
If it wasn't clear, the reason the Evil Monsters wore garbage bags was because they got pummeled with water balloons. Filling water balloons takes time! Don't leave it until the last minute. And it's best to divide them up into several buckets. If you want to forgo the water balloons or need to do this inside, maybe you could go plastic? But make sure your Evil Monsters are well equipped…
Hope this helps you have an awesome scavenger hunt birthday party! If you liked this one, I have another one about an evil witch who steals cupcakes. Have fun!