"What are you watching?"
My 9-year-old daughter has just caught me watching The Bachelorette. Normally this is an activity I'd reserve for after the kids have gone to bed, but it's summer, and "after they've gone to bed" is practically when I go to bed.
"It's called The Bachelorette. It's a horrible, horrible show where this woman meets a bunch of guys, goes on dates with them, and then one-by-one kicks them off the show when she decides they're not her 'true love.'" I do this last part in air quotes because I'm already passing on the annoying habit of using air quotes to my kids.
"If it's so bad, then why are you watching it?" she says, sitting down next to me on the floor.
"You know that saying, 'It's like a train wreck — you just can't look away'? That's this show."
We watch for a while. I explain who everyone is — the guys who've been rejected, the guys who think they love Des (the Bachelorette), and the guy who Des thinks is "the one."
"That guy seems really nice," she says, indicating one of the guys who's almost definitely getting dumped. "But you don't think she's going to pick him?"
"I think he is really nice. He seems like a great guy. But he's just not the guy for her. That's the funny thing about love — just because someone doesn't want to be with someone else doesn't mean there's anything wrong with that person. It just means it was their person. Do you see what I mean?"
"Yeah. So all of these guys may be really great. They're just not for her."
"Exactly. It doesn't mean they don't feel sad when she sends them home. It's still hard. But it has nothing to do with who they are. They didn't do anything wrong. It just wasn't meant to be."
She watches for a while. I can see the wheels turning. With her the wheels are always turning…
"I definitely don't like that guy," she says. "I wouldn't want a husband who was in my face all the time, wanting to kiss me like that."
I press my lips together to keep from busting up.
A few days later, we're riding in the car. She starts asking about how long the people on The Bachelorette have to get to know each other. I tell her a couple of months.
"That doesn't seem long enough. I think I'd want to know someone for at least a year before I got married to them," she says.
"It's been my experience that people don't really show you who they really are for about six months. Most people can sort of grit their teeth and deal with things that bother them for a while, but after six months or so, they kind of can't take it any more. And you can't either. That's basically when you have to decide — can I live with this or not."
"So what kind of stuff did you find out bothered you about Dad after six months?"
"Well, Dad and I were kind of different. We were friends for years, so I'd already seen him in a whole bunch of different situations — like when he was happy or sad or angry. When you're friends with someone, you act differently. You're not on your best behavior the way you are when you're dating someone."
Someday, maybe — just maybe — when my daughter is dating the wrong guy, the little voice in the back of her head will remind her of these conversations. It'll tell her to take things slowly. It'll tell her to make a break for it when he shows him who he really is. It'll tell her she was rejected because it wasn't meant to be, not because  there were flaws in her character.
And hopefully, it'll also tell her to never go to on a reality TV casting call.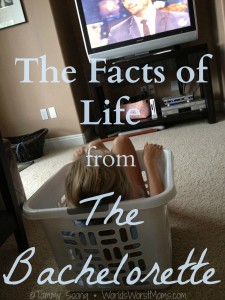 *Yes, that is Elfie sitting in a laundry basket, watching TV.