So the results are in! The Great Banana Hammock — er Bunker — Giveaway is over and we have our winners:
Ginger
Anna Stewart
Lynette
Email your addresses to worldsworstmoms@gmail.com, and I'll ship off your loot!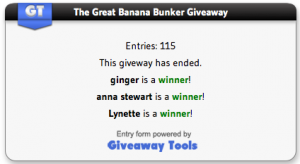 By the way, I promised to report back and give you a review of Giveaway Tools (giveawaytools.com). It worked really well, at least from my end. The only glitches were when my comment box got moved down into the bottom banner of the blog (but that somehow rectified itself). And then there was the issue of not tracking when someone actually wrote a blog post. But that was easily fixed by adding the question,"What's your website?" Then I could just go to the person's blog and verify it.
Other than that, I loved how flexible it was. People can use Facebook, Twitter, Pinterest, comments, and just about any other "task" you want to make up. Last night, I just plugged in the number of winners I wanted, hit the button, and blam! There they were, complete with emails where I could contact them. It even listed them on the widget when I was done.
I don't know how easy it was from your end. PLEASE let me know if you had any problems or if any of it was just a general pain-in-the-ass. I have other options.
Anyway, a big thank you to everybody who took the time to enter. I hope you guys are enjoying this place as much as I am. Hang tight — more good things to come.