Winter in Reno this year has sucked. While the rest of the country's been getting pummeled, we're dry as a bone (see, there's just no pleasing anyone, is there). Anyway, as a result, not only is our water situation grave, but our winter super happy play land experiences have been what you might call "limited."
So when my friend, JC Little, wrote this great new book, The LAST Snowman, I started thinking. When was the last time we built a snowman? And then I remembered — that would be October, when Elfie (the 9-year-old) made them out of clay. And then smashed the crap out of them.
We were at the Portland Children's Museum and somehow got sucked into the art room. Elfie started making little balls. Which led to snowmen. And then a snow family. And soon, she was determined to make our entire extended family — with everyone in correctly correlated height ratios, including pets.
The volunteers at the museum were impressed with her little menagerie. And even more impressed when it was time to go and she took a rolling pin and started smacking the hell out of all of us (and you thought people in the Northwest were all peace-y peace-y).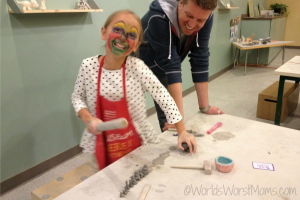 They eventually brought her a giant roller so she could smush the whole snow family into pancakes. Hard to say which part she enjoyed more — the setting up or tearing down.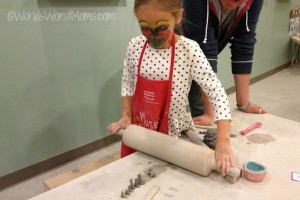 But I digress. Like I said, JC has written this awesome picture book — The LAST Snowman. In addition to just being cool because it's illustrated by her (and she is amazing), it's kind of, well, magical. When you buy it in kindle form (under $3), it's actually designed to "animate" when you flip through the pages.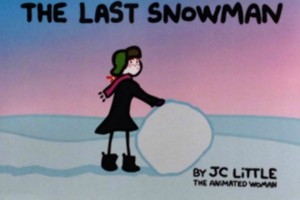 The story itself is about growing up and letting go. It's just one of those bitter-sweet little tales that make you laugh and feel warm about your family (even though it's mostly set in the snow).
Anyway, you can also get the book in paperback at Amazon or Createspace. And fabulous news — JC is giving away a copy to one of you lucky, lucky people, along with a whole bunch of other cool, snowy swag!
A mug with an illustration from The LAST Snowman.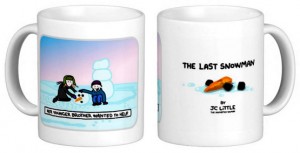 A prize pack from Boiron

— a world leader in homeopathic medicines for the whole family (just in time for cold and flu season).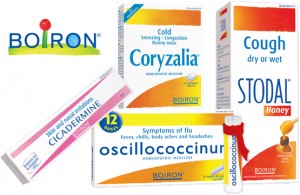 A limited edition "Hot Chocolate Swirl" soap From Dot & Lil — Handmade in their Montreal studio, it's chocolate scented, with chocolate soap sprinkles on top and The LAST Snowman book cover design on the label (try not to eat it). And they're throwing in some Shea Rescue Butter for lips and nails.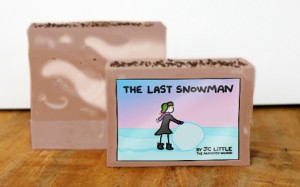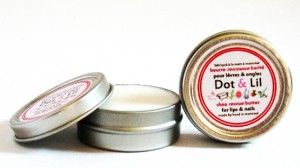 The giveaway will end on February 27th, and I'll announce the winner on the 28th. Only open to residents of the U.S. and Canada. By the way, I don't really care if you leave a blog post comment — it's just something stupid this giveaway widget says. Just click the damn button….
So be sure to check out The LAST Snowman. It's an adorable little book (Elfie laughed her way through it), and this is a great opportunity to support a deserving blogger in her publishing efforts. You can find the rest of JC's fabulous work at The Animated Woman.
Thanks to Boiron and Dot & Lil for sponsoring The LAST Snowman giveaway.