"I just really don't want to go. I'm going to miss you guys too much."
My 10-year-old son is lying in his bed. I'm snuggled next to him, stroking his head. He finds a hole between my body and the mattress so he can get both arms around me. It's like he's holding on for dear life.
I knew this was coming. When the papers showed up for the wilderness camp that his school attends every year, he said he didn't want to go. He went last year for two nights. He'd never slept away from home that long.
But he survived. He said it wasn't any fun and that he "suffered" without us (I swear, my kids are trying to kill me). But I teased enough "I didn't totally hate THIS part" out of him to convince me that he should go again (this time for three nights). His whole class was going. This year his little sister was going. It was an adventure. An "independence building exercise." How could we cave and let him stay home?
My family is "tight." The kids go on vacations with us. They don't do many sleepovers. They like being home. They like having their "stuff." I don't know how much of that is learned or genetic because I was the same way. As a kid, I didn't particularly enjoy staying at other people's houses. I slept with my blanket until sixth grade (although you'd be hard-pressed to call it a blanket by that point since it was mostly a series of knots). I liked my family. When I left for college, I was a disaster. I knew the door to that life was closing forever, and I was so sad to see it shut.
I hated camp when I went as a sixth grader. But even now, as an adult, I don't like participating in activities with shrill group leaders who expect you to act happy and enthusiastic about the super-fun game where you all stand in a circle and sit on each other's laps. So encouraging my children to do this — forcing them to do this — feels hugely hypocritical. Be "better" than I was. Be stronger. Be more independent.
And then I think, why?
I turned out just fine. I got married. Had kids. I have friends. I travelled around Europe by myself. Lived alone in an apartment. I didn't become some sociopathic freak. I didn't even keep my blankey (not that there'd be anything wrong with that).
So after a night of many tears, we got up the next day and finished packing. Newt, my son, rallied. He's developed what my husband describes as his "game face." And it was on. Elfie, my daughter, seemed pensive. She'd always been excited about going (even if her big brother bailed), but the day before, she'd started getting worried about being away for the first time. Still, she was resolved.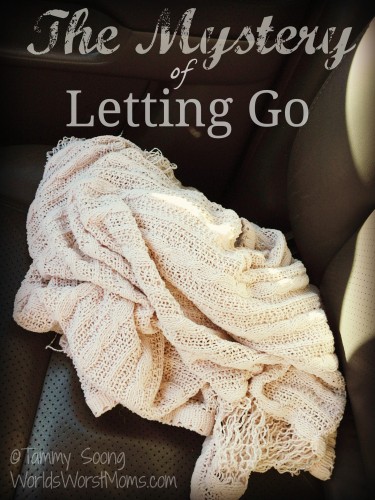 Then the drive to school, it happend. Elfie blurted out, "We remembered blankey, right?" Elfie also has a blankey (of course Elfie also has a blankey — feel free to get you dissertation going on that one).
"No," I said. "I didn't realize you wanted it."
I could see her trying steel herself, but her eyes filled up with tears. "I've never slept a night without blankey before."
"You haven't?" How these things get by me is a mystery. Maybe it's because she also sleeps with about fifteen other stuffed animals. Needless to say, when we got to school and I couldn't peel her off me, I quickly ascertained that I'd be making another trip (see, I pick up certain things…). After reassuring her that I'd be back to put it in her bag, she gave me the tenth "last" hug and let me walk away.
And my child who cried himself to sleep? He ran into his best friend while we were putting down their bags. They started to walk inside together, and he almost forgot to say goodbye to me.
You just never know when or where or what or how anyone is going to let go.