I've never been to BlogHer. I didn't go this year for numerous reasons. For one, I've lived through two Illinois summers and suffered through multiple visits that always seemed to coincide with a heatwave, and lately I'm against torturing myself if I can help it. For two (I know that's wrong, but does anyone know how you follow up "for one"?), it's a bloody expensive trip. And for three . . . well, I'll get to that.
I have, however, been reading some of the BlogHer '13 highlights, and one that stands out is the keynote from Sheryl Sandberg. You know Sandberg — she's the Facebook COO who wrote Lean In and got about a million women pissed at her for sounding sort of, well, condescending. Anyway, one of her big takeaways from the BlogHer appearance was how we describe girls as "bossy" instead of "having executive leadership skills." I've never been a big fan of how we reserve bossy for girls (think about it — ever hear anyone call a boy "bossy"?), so I'm all for getting rid of the term. Let's just hope everyone doesn't go home and use this as an excuse to spawn a whole generation of people who think they're Mariah Carey and won't enter a dressing room unless it's the perfect temperature and appropriately stocked with kittens.
From what I understand, Sandberg's speech was quite inspiring. She apparently cleared up the misconception that her "damn the torpedoes/get to the top" message was meant for all women in all situations, not just the corporate world (I'll give her the benefit of the doubt and assume she wasn't just tweaking the message to, ahem, smooth things over and sell more books). More importantly, she talked about society's perception of women in leadership positions. Newsflash: we don't support them. And her contention is that we'd all be so much better off with more women leading us — leaning in to take those positions of power (I don't disagree).
But here's my problem: I don't want to lean in. I'm in total support of all my sistas who are doin' it. I want to live in a world where people like Hillary Clinton, Michele Obama, Samantha Power, Ruth Bader Ginsberg, Andrea Mitchell, Wendy Davis — just to name a few off the top of my head — are the norm, not the anomaly. But at this point in my life, I'm happy to do a little leaning out.
I'm all for pursuing dreams and finding work — paid or otherwise — that makes you feel passionate and fulfilled. The older I get, the more I realize that people need to find their "happy place" almost as much as they need oxygen. Lose your joy and you wither on the vine like a grape without sunshine.
For me, writing is my joy. But it's not alone.
My kids are 9 and 10. When I was "young" and pictured having children, I didn't see myself with babies. I saw myself with 9-ish-year-olds — taking trips, having "real" discussions, telling jokes. THIS is what I've been waiting for. This is the time when I can teach them how to make macaroni and cheese (from a box — don't judge). This is the time when we can throw parties that they'll actually remember. This is the time when we can watch shows and movies that make the whole family laugh or cry (and not make my husband and me slowly die on the inside…).
In nine years, when my daughter is pulling out of our driveway on her way to college (if we can afford it), I'll still be able to write the great American novel. There will still be plenty of sick people for my husband to take care of at the hospital. And, most likely, there will still be the BlogHer Convention. But there will never, ever be another time when our kids are 9 and 10. And there will never, ever be another time when our daughter dresses up like this: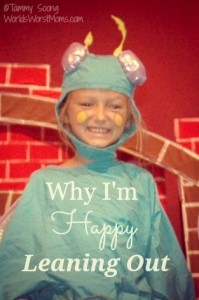 See, this is the second year that Elfie has gone to a weeklong program put on by the Missoula Children's Theater. I — no joke — scheduled summer around it. May sound like a crazy thing to do, but this is a kid who, three years ago, basically had a panic attack because she had to give a class presentation. This year, she talked about Missoula for months. And now she wants to "do more plays."
It just so happened that BlogHer fell on the same weekend as Elfie's play. And yeah, I could've skipped it. She would've survived. But the thing is, I didn't want to miss it.
Because in the next few years, I'm going to miss SO much. She and her brother will be hanging out with their friends, having conversations I won't hear, and making macaroni and cheese all by themselves.
That's not to say I won't keep working on my blog and my writing — it's what I love. I may hit BlogHer next year. And who knows — I may even become a giant leader in the blogging world, thus leaning in unwittingly.
But I want to see as many plays as I can. And be there as often as possible to strain the macaroni since the pot is still too hot and heavy for them to handle alone. Because I know this — the day is coming when I'll walk in the door and the macaroni will already be made.
And on that day, I don't want to find myself feeling lean on memories.