This post is sponsored by Bombas. I took this gig because they's good folks.
And because, you see, I've always had this crazy dream about owning a business that's able to "give back." That's why when Bombas socks contacted me, I told them I'd tell you guys about them for the low, low price of, well, socks.
Seriously, I love these guys. Not only do they make some kickass socks, but for every pair they sell, they give another away to help the homeless. Turns out socks are pretty big on the list at shelters. They've already given away 70,000 pairs!
Bombas has been making men's, women's, and teen's socks for a while, but everyone started bugging them to make the socks for kids. So Bombas started an Indiegogo campaign to get the startup cash. When they get the program going, they'll be able to give socks to kids AND adults who need them (you should help — that'd be cool).
So, why are they such good socks? I'll let this graphic explain.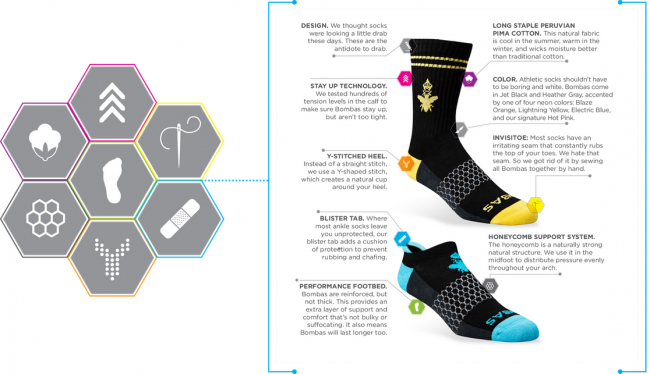 I bought these socks (left) for my son the other day at Kohl's. They're about half the price, but check out what they're already doing after one wash:
I don't know about the rest of you, but I've become a fan of better and pricier over cheaper and crappier. After all, you can buy a $10 six pack of socks from Walmart that was made by poorly paid Bangladeshi women working in a crumbling building, but they'll be worn through in a month. And really, how many scroungy sock puppets can one family have before it just becomes weird?
And this is sort of unbelievable — if your kid wears through or outgrows his/her Bombas socks within a year, they'll replace them. Feels like a 1970's Toughskins commercial.
Anyway, Bombas is giving away a pair of their fab socks to one of you fine folks (in the United States only — sorry). There are a bunch of ways to enter — follow them on Facebook or Twitter. Tweet this post. You crazy kids just go nuts.
Good luck! Hope you win some socks. And Jasper agrees with Bombas that we should go out every day and try to "Bee Better."