For about two days last week, I tried really hard to care about putting on makeup. Two days. And then I cracked.
Good thing I've never had to quit meth or smoking.
I'm not much of a makeup person. I only started wearing mascara in 8th grade because of peer pressure. The feel of it on my eye lashes almost drove me insane. I think foundation smells like perfumed chalk that's been soaking in the sink. And don't even get me started on lipstick (she says, as she gets started on lipstick). If you line my lips, it looks like someone accidentally put them in the wrong spot on my face. And when the actual lipstick is on, I look like a clown. It's what happens when you're naturally alabaster and don't have to paint your face white in order to get that classic circus effect.
I've tried, over the years, to learn how to apply and wear makeup, but nothing ever seems to work. I've walked away from so many makeup counters with my face looking like the Joker's sister that I finally just threw in the towel. Now I just go to Target, close my eyes, grab something, and hope for the best. So far, it's save me a whole lot of money and worked out almost as well (at least according to my poorly lit bathroom mirror).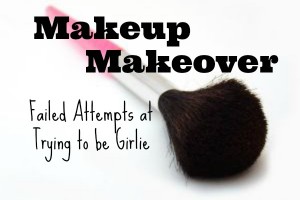 In truth, so much of this has to do with pure laziness. I'm not a complete makeup spaz. I mean, I can clean-up and look acceptable when necessary, but doing it every, single morning? That just seems like a lot of work when the only ones who are going to see me are 1) other parents dropping off their kids at school (and that's through my bug-splattered windshield), 2) the guy who always talks me up at the grocery store, and 3) the dog.
But just recently, while doing that dangerous activity we all know so well — surfing the internets — I landed on Sarah James' blog, Whoorl. Sarah is beautiful and pulled together and knows how to do things that girls are "supposed" to know how to do, like curl their hair and put on makeup. She'd done this tutorial on "Soft and Pretty Makeup," and I got sucked in.
"I could do that," I thought. "Yeah, sure, I could do that every day. I mean, I think she looks fine without the makeup, but if she goes to all this trouble it must add to her overall happiness and sense of well-being, not to mention world peace in general because, really, happiness and sense of well-being are based on the domino effect, right? So when you think about it, it's sort of my civic duty to wear makeup…"
So for two days, rather than just throw on some lotion, lip balm, mascara, and blush, I upped my game — tinted face cream, under eye concealer, bronzer, eye shadow, and lip gloss. And I tried covering up some of the annoying zits that I escaped as teenager but am apparently making up for now. And I even threw on a little powder foundation (I have a plethora of old, random crap in my bathroom drawers).
And hey, I looked pretty good! I was sort of glowy and dewy (at least according to my poorly lit bathroom mirror). And it didn't take all that long. . .
Sort of. . .
It was worth the extra five minutes of lost sleep. . .
Kinda. . .
. . .
Yeah. . .
I've heard it takes 21 days to make a habit. If I'd gotten a bunch of positive feedback from the dog, then maybe this would've stuck. If I were the kind of person who didn't go out of her way to avoid washing her hair because it took too much time out the day to dry it, then maybe this would've stuck. If I could put glowy and dewy at the top of my list, then maybe this would've stuck.
At least it all bodes well for my future chances of taking up meth or smoking.