So here's something I've never told you guys: I met the president. I even got to talk to him. And he hugged me.
And no, I haven't OD'd on pain meds — I'm being serious.
I don't talk about this a lot (clearly, since I've been blogging for almost four years and am just mentioning it now). It feels self-serving and braggy, and the only reason I ended up meeting him was because I was doing something that I loved — and doing it with absolutely no expectation of return or reward. So why talk about it now? I'll get to that. But first, the story…
My kids were 2 and 4 in April 2007. That previous fall, I'd worked on my very first campaign — Jill Derby for Congress. It freed me from the shackles of motherhood — not kidding. For four years, I'd been practically homebound with my son who'd been diagnosed with high-functioning autism. I never left the house. These were the dark ages, before millions of people were blogging and everyone had laptops, so I was very much alone.
Anyway, I finally got the kids into a preschool program for three glorious hours on two mornings, and I spent them making phone calls and manning the desk at this campaign. It was like coming up for air after being underwater for just a tiny bit too long.
After it was over, my husband asked if I'd planned to do it again since it seemed to make me so happy. "No, I need to believe in a person. I can't just go work for anyone." And that's when it happened — Barack Obama entered the 2008 primary.
I was one of  a handful of people in Reno who started on his campaign. Hillary Clinton (who I admire up the wazoo and hope will be our next president) was the presumptive nominee. NO ONE thought he would win. Hell, no one even knew who he was…
We poured everything we could into that campaign. I say "we" because anything that our family could possibly put on the back burner was put there. We ferreted out every single person we possibly could who might be "one of ours." Walked for miles. Talked for hours.
But here's the thing — I didn't do any of it because I wanted something back — at least not for myself. Yes, I wanted the country to be better for my family and me. I wanted to make a difference. But I wasn't expecting a job or special treatment or even a pat on the back.
The funny thing about finding a problem that needs fixing is that it sometimes sort of ends up fixing you. During the Obama campaign, I not only came up for air, I stayed on the surface…and breathed. I ended up working all the way through to the November 2008 elections. And one day, when we were preparing for then-Senator Obama to come into town, I was asked to fill in for the speaker who couldn't introduce him the next day — in front of 2,000 people.
It's amazing what you can do when you've found your breath…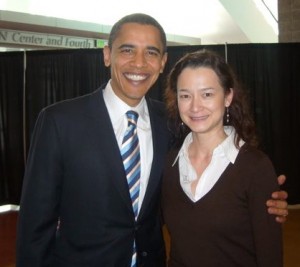 Anyway, the reason I thought of this story was because I found this — it's called the Community Action Pack. I know there are a ton of you out there who want to do something, but you don't know what it is. You see stuff happening that bothers you, but you don't know how to change it. Or maybe you're underwater and you just need that "something" to help you bust through the surface.
So background — this thing is put together by a group called Take Part, which pretty much tries to find really cool, relevant stories about people who've actually been able to change their communities. The hope is that when we see these stories, we'll get all inspired and want to do the same thing (sort of a psychic pay-it-forward). Take Part is also part of the company that's behind all of those crazy liberal movies that we all love like An Inconvenient Truth, Food, Inc., and Promised Land.
Anyway, the Community Action Pack has a redonkulous number of tools in it to help you figure out how to make actual changes happen, such as:
Share your ideas with city leaders
Start or sign petitions
Track Congressional bills
Hook up with volunteer opportunities that actually fit with your life
Start you very own community project — they'll even walk you through the social media part (websites, Facebook, Twitter)
Get funding
And seriously, the list goes on…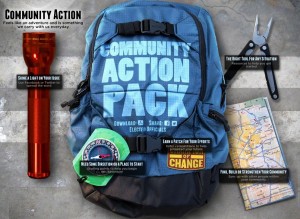 And if you're super confused and don't even know what the heck you want to do at all, there's even a sort of "What Color is your Parachute" type quiz that takes you through and helps you figure it out.
I look at this stuff and it kind of makes me want to cry because when you work really hard on a project and you don't know what they heck you're doing, it's so hard to start from scratch. And I've been there so many times. Just the info on social media alone would've been helpful.
The thing is, I think most of us want to do something to help. Most of us want to make the world a better place for our kids and grandkids. But we watch TV, see all the political fighting and corporate money, and we don't know where to start.
This is one place. And trust me, I've seen it happen. If you go in with an open heart (bah, I'm sounding really Hallmarky now), you'll be amazed at what it can bring your way.
Be that person who break the water's surface. Start the ripple, and give us all a push.
The fine folks at Linquia hooked me up with a sponsor for this post, but frankly I would've done it regardless because this stuff rocks. And don't forget that January 19th is the Martin Luther King National Day of Service — perfect time to put this to use.